fluid tube manufacturing process/how fluid pipes are manufactured
---
Industrial Stainless Steel Tube/Pipe Manufacturing Machine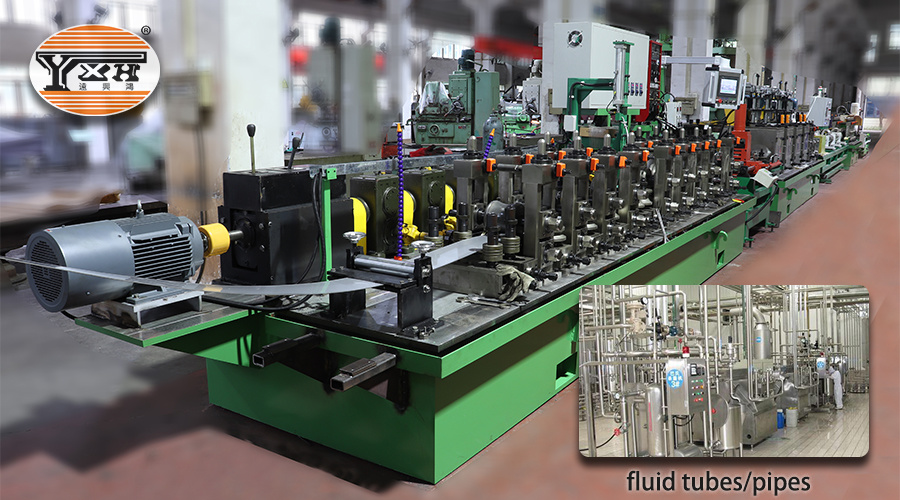 This is GG50 industrial stainless steel tube/pipe manufacturing machine, which can make stainless steel pipes used for industrial area, such as sending liquid (milk,beer,water pipes).
Because the finished stainless steel pipe is used for sending liquid, the tube/pipe manufacturing machine is equipped with bead rolling machine and bright annealing machine.

Bead rolling machine is used fro on-line treatment of welded joints of stainless steel pipe, rolling on the inner and outer welded joints repeatly to keep the joints smooth and make the welded pipe seamless.

Bright annealing machine can heat the stainless steel welded pipe to 1050℃ then cool it to the temperature lower that 100℃ under the protection of hydrogen. It can increase the stainless steel pipe hardness, that the ss pipe is not easy to burst.
If you want to produce industrial stainless steel pipes, welcome to contact us.
Our tube/pipe manufacturing machine with good design, and we can customize pipe manufacturing machinery according to your needs.
,tube/pipe,manufacturing,machine,,stainless,steel,tube/pipe,manufacturing,machine,pipe,manufacturing,machine,pipe,machine,tube,machine