Steel pipe making machine in ahmedabad: Some configuration issues about the pipe making machine
---
Steel pipe making machine in ahmedabad:
The steel pipe making machine is a customized machine, of course, it also has specifications, but it cannot be adapted to different customer needs, so we will adjust the configuration of the pipe making machine according to different customer needs, in order to make the pipe making machine better meet customer needs.
In response to customer questions, we will introduce some configuration differences today, and why we recommend that customers choose this configuration.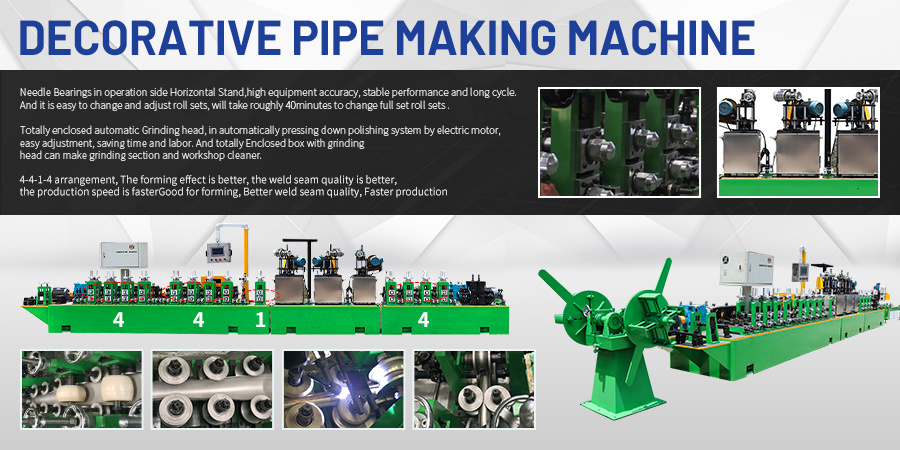 The first is the 4414 arrangement: Of course, in addition to the 4414 arrangement, we also have the 3314 arrangement, the 3415 arrangement, and the 4415 arrangement. Why the 4414 arrangement is emphasized here is because is can avoid the marking very well, because it is slowly forming, pressure will be less, so the marking also less.
Followed by needle roller bearings, The most important part is Horizontal stands with Mechanical die casting design and the Needle bearing, it is very easy to take out, very easier and faster to change the Roll sets.
Finally, there is a fully automatic grinding head, no need the worker stand here to operate , the flap wheel will up and down automatic as the condition.
Other configuration introduction, we will introduce in the next article。
If you interested in our pipe making machine, welcome to contact us at any time.
Email: fsyxh10@tubemakingmachine.com
Phone:+86 18818745372
Whatsapp:+86 18818745372
Wechat:+86 18818745372
Keyword:Steel pipe making machine in ahmedabad pipe making machine
steel,pipe,making,machine,Steel,pipe,making,machine,in,ahmedabad,pipe,making,machine