PIPE MILL MACHINE : can make stainless steel pipes & tubes
---
PIPE MILL MACHINE : Stainless steel pipes & tubes are used in petrochemicals, fertilizers, dairy industries power stations and nuclear plants. Other corrosion resistant applications as of food processing, industry are also significant users. These pipes are used extensively by Nuclear Fuel Corporation.), steel tubes industry was poised for a 30% growth in the wake of a growing demand in the infrastructure construction sector, mainly in scaffolding in buildings. The sector has grown dramatically in the recent past at a record 20% growth owing to several infrastructures projects lined up by the government and the private sector.
The demand of steel tubes and pipes industry mainly exist from various domestic industries like real estate, construction, telecom, power, energy, entertainment zones, metros, airports and ports, etc.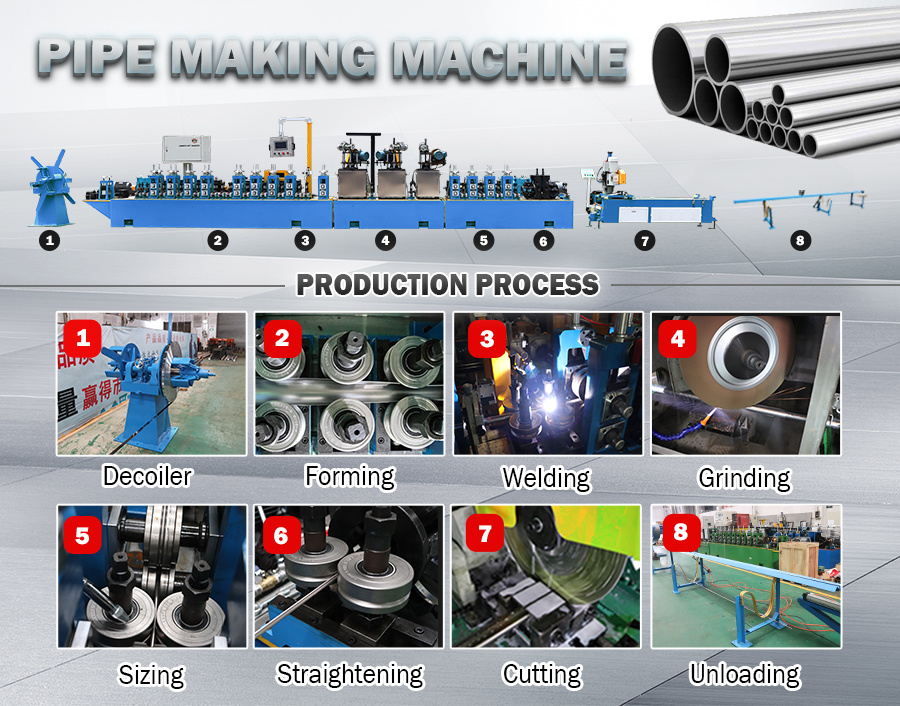 PIPE MILL MACHINE : Stainless steel pipe machines also called tube mills many countries are manufacturing stainless steel tube machines, before discussing it, we will understand basic knowledge of stainless steel machine, there are many parts in stainless steel machine first is de-coiler where we place the steel coil normally the average weight 1 ton then the stamping part comes where machine stamp the name of company, after it there is forming section of machine where rolls give starting shape from coil to stainless steel pipe, after forming section pipe need welding so there is a welding section, after welding section there is grinding section where machine removes welding marks from the pipe surface and give it to clean & excellent shape, now pipe move to straightening and seizing section also called Turkey head section at this stage machine straightening the pipe very closely and the last section cutting called cutting section, in which pipe has completed, but still we cannot say it complete procedure of stainless steel pipe until it get polished by polishing machine.
More machine detail, contact us!
Email: fsyxh10@tubemakingmachine.com
Phone:+86 18818745372
Whatsapp:+86 18818745372
Wechat:+86 18818745372
PIPE,MILL,MACHINE,Stainless,steel,pipe,machines,tube,mills,stainless,steel,tube,machines