Tube Mill-What is Needle Bearings?What are the advantages?
---
What is Needle Bearings? And the advantages of Needle Bearings?
Needle bearings are roller bearings with cylindrical rollers, which are thin and long relative to their diameter. This kind of roller is called a needle roller. Despite having a small cross-section, the bearing still has a high load bearing capacity, needle roller bearings are equipped with thin and long rollers (roller diameter D≤5mm, L/D≥2.5, L is the roller length), so The radial structure is compact, and its inner diameter and load capacity are the same as other types of bearings, and the outer diameter is the smallest. It is especially suitable for support structures with restricted radial installation dimensions.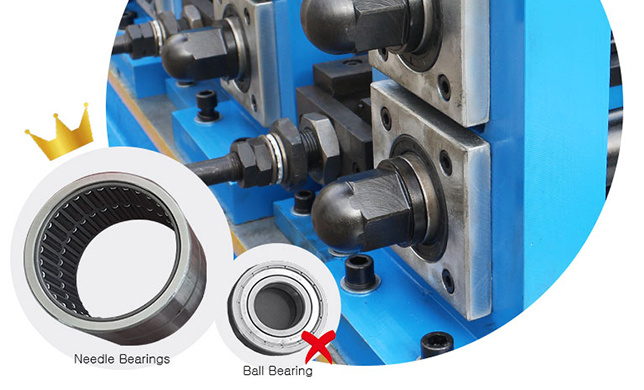 Tube Mill Machines:Why use needle bearings in operation side Horizontal Stand?
Needle Bearings in operation side Horizontal Stand, high equipment accuracy, stable performance and long cycle. Digital display device and Tooling sets adjusting synchronously.
It is easy to change and adjust roll sets, will take roughly 40minutes to change full set roll sets.
More machine detail, contact us!
Email: fsyxh10@tubemakingmachine.com
Phone:+86 18818745372
Whatsapp:+86 18818745372
Wechat:+86 18818745372
Tube,Mill,,Tube,Mill,Machines,Tube,Machines