Pipe Polishing Machine:"Dust Collector System"
---
"Dust Collector System"is popular in stainless steel pipe factory.
Do you still worry about how to remove dust? Dust Collector System can help you solve this problem. Give you a healthy ,environmentally production environment.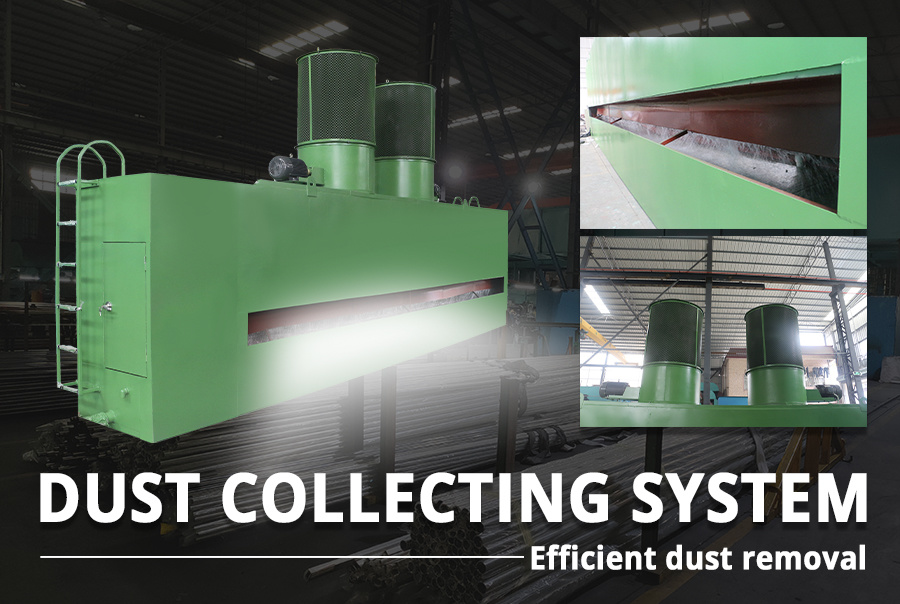 The operation principle of Dust Collector System:
Stainless steel tube polishing dust collector system is through the directional axial flow high pressure blower and other equipment to pull the dust into the wind slot, to raise the negative pressure rapidly, high negative pressure allows air to pass quickly through and into the collection box.
Firstly, used the high pressure wind generated by the blades quickly atomizes the water, intercepts the dust particles and sinks to the wind slot.
Secondly, the dust box is sprayed with water mist, to intercept and purify dust particles.
Thirdly, when the air passes through the air trough and the droplets catch the dust, this will meet air emission standards.
Finally, the clean gas is expelled directly from the outlet.
Advantages of dust collector system:
1.convenient for cleaning:solve the problem of environmental pollution caused by dust to production workshop;
2.environmental protection:the collected dust can be recycled as raw material for coal-fired power plants;
3.high efficiency,long service life: the equipment is not easy to collect dust, the motor disassembly and maintenance is convenient..