Round Pipe/Tube Polishing Machine
Round Pipe/Tube Polishing Machine
---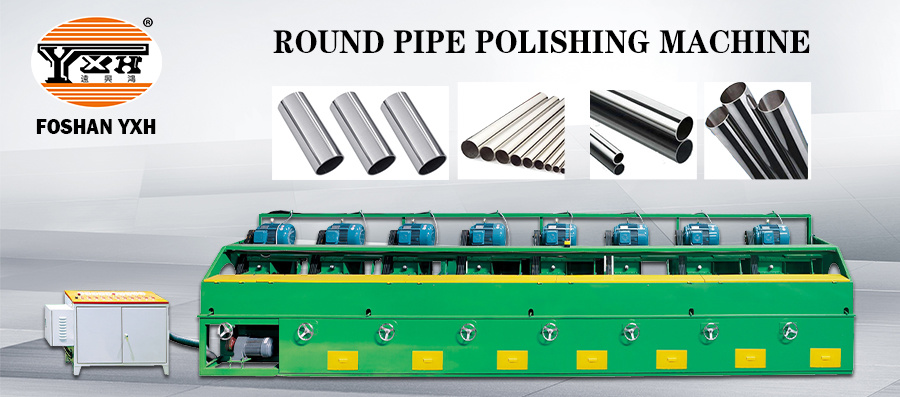 Round tube polishing machine is also called tube buffing machine, tube grinding machine, external tube polishing machine. The round tube polishing machine is mainly used for rust removal and polishing in the industries of hardware manufacturing, vehicle parts, steel and wood furniture, instrument machinery, standard parts and before and after electroplating. It is the best choice for polishing round tubes, round rods, and slender shafts. The workpiece processed by the round tube polishing machine has high brightness and will not affect the original size of the workpiece. It is especially suitable for the highlight polishing of the workpiece after the centerless grinding machine.
Pipe Polishing machine model and parameters
Machine Model

YP-8 Head

YP-10Head

DYP-10 Head

Grind Head

8 Pcs

8 Pcs

10 Pcs

Grind Head Power

5.5KW *4

4KW*4

5.5KW *5

4KW*5

ALL 5.5KW

Total power

41 KW

50.5 KW

59 KW

Voltage

380V/50HZ

380V/50HZ

380V/50HZ

Polishing Size

12.7mm-63mm

12.7mm-63mm

50mm-113mm

Speed

2-30 m/min

2-30 m/min

2-30 m/min
If you are interesting our product, please contact us.
Email: fsyxh10@tubemakingmachine.com
Phone/Whatsapp/Wechat: +86 18818745372
pipe,polishing,machine,tube,polishing,machine,tube,buffing,machine,tube,grinding,machine