New Design Steel Pipe Machine VS Ordinary Design Steel Pipe Machine
New Design Steel Pipe Machine VS Ordinary Design Steel Pipe Machine
---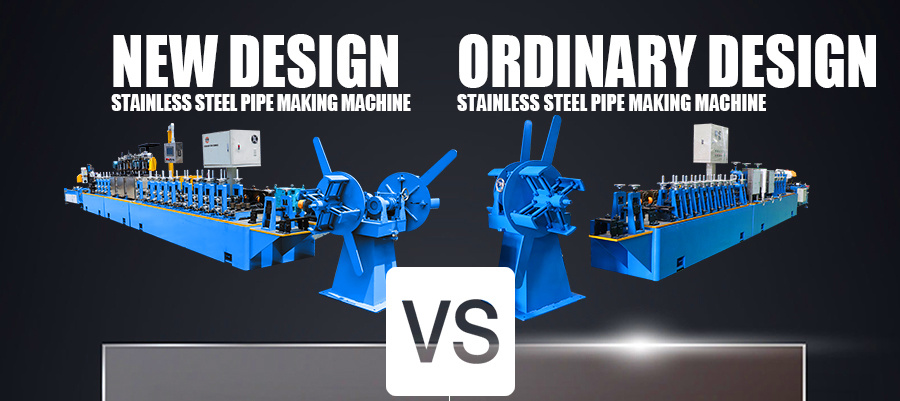 We often encounter customers asking such a question: The difference between new-design pipe machine and ordinary-design pipe machine.
Today we will give you a more detailed comparison introduction about the stainless steel tube mill machine.

| | |
| --- | --- |
| Needle Bearings in operation side Horizontal Stand | Horizontal Stand |
| it is easy to change and adjust roll sets, will take roughly 40minutes to change full set roll sets | It takes 2 and a half hours to change the mold time. |

| | |
| --- | --- |
| Ultrasonic double tig | Ultrasonic single tig |

Totally enclosed automatic Grinding head

manual Grinding head

In automatically pressing down polishing system by electric motor,

one engineer can operate five set tube mill.

And it can make grinding section cleaner and grinding more stable.

Totally Enclosed box with grinding head can make grinding section cleaner.

Adjusting the grinding head takes time and labor

industrial gearbox

normal gearbox

According to the pipe diameter of the steel pipe, we will give you reasonable advice according to your needs.
The above is the difference, of course, we can customize the stainless steel pipe making machine according to customer needs.
In fact, the main difference between the ordinary pipe mill and the new pipe mill is that the pipe making machinery is more intelligent and labor-saving, and the second is to increase the speed of pipe production.
stainless,steel,pipe,making,machine,pipe,making,machinery,pipe,mill,stainless,steel,tube,mill,tube,mill,machine