Chimney steel pipe making machine price: How to make Chimney Pipes?
---
As one of the emerging key projects in the chimney field, stainless steel chimneys have received extensive attention from the industry.
A: What is the stainless steel chimney?
Q:The chimney is a removal tool. The stainless steel chimney is used to remove the gas or smoke caused by the fire. The stainless steel chimney is a towering structure that discharges the flue gas into the sky, which can better improve the combustion conditions and reduce the pollution of the flue gas to the environment.
A:The purpose of stainless steel chimney?
Q:Stainless steel chimneys are mainly used in central air-conditioning system refrigerating gas, boiler gas, kitchen oil fume and exhaust emissions from various industrial process treatment equipment.
A:What are the characteristics of stainless steel chimneys?
Q:The first advantage is that it does not rust during use and can increase the service life. Moreover, it has high temperature resistance, good heat insulation performance, and corrosion resistance and usually does not require maintenance. The stainless steel chimney production process produced by Dalian Aibang Electromechanical Equipment Co., Ltd. is all carried out on automation and special equipment, and can provide high-quality chimney parts of various specifications. The product is mainly carried out on the ground during the production process, with fast speed and light labor intensity. Compared with the traditional chimney, the construction period is greatly reduced.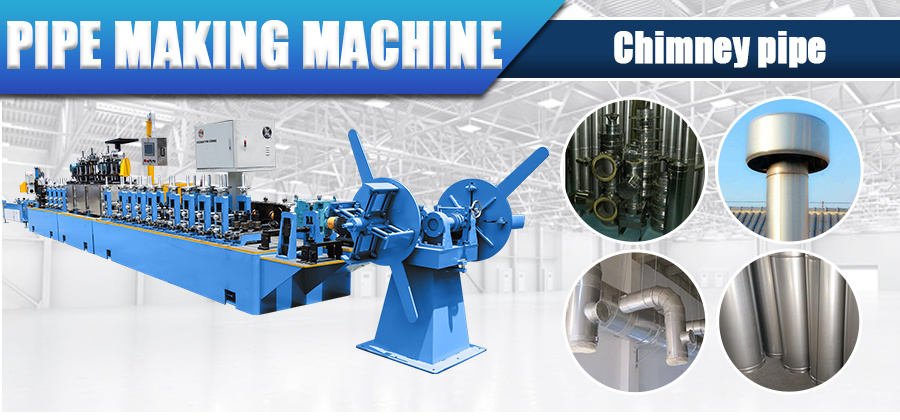 Foshan YXH Stainless Steel Pipe Making Machine can make Chimney pipes.
Type

Pipe Diameter

Wall thickness

Major motor

Polishing motors

Pipe Application

Stronger-ZG50

58mm-89mm

0.3mm-2.0mm

15KW×2pcs

3kw x 3/set

Chimney pipe

Sell Point

Big pipe in thinner thickness(eg.Φ80mm x Thickness 0.4mm).
If you are interested in our ss tube mill, please contact us!
Email: fsyxh10@tubemakingmachine.com
Phone/whatsapp:+86 18818745372
pipe,making,machine,stainless,steel,pipe,making,machine,steel,pipe,making,machine,price,ss,tube,mill