Stainless Steel Pipe Making Machine Introduction
Stainless Steel Pipe Making Machine Introduction
---
Stainless Steel Pipe Making Machine Introduction
Stainless Steel Pipe Making Machine, covering range from 4.8mm to 325mm,and thickness is 0.18mm to 6.0mm. The pipe production machine mainly produces stainless steel pipe, carbon steel pipe. And this pipe making machine not only can make round pipe, square pipe, rectangle pipe, oval pipe and other irregular pipe as well.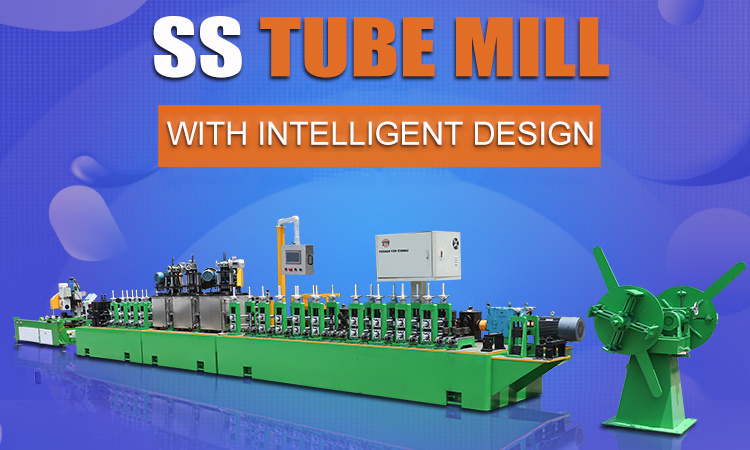 Advantage of Pipe Making Machine
1.Needle Bearings in operation side Horizontal Stand,high equipment accuracy, stable performance and long cycle. And it is easy to change and adjust roll sets, will take roughly 40minutes to change full set roll sets .
2.Thicker stand, stronger tube mill, easier to produce heavy thick pipe.
3.Welding Tracking System,If there is a missing welding during welding, the system will give an alarm.
4.Totally enclosed automatic Grinding head, in automatically pressing down polishing system by electric motor, easy adjustment, saving time and labor. And totally Enclosed box with grinding head can make grinding section and workshop cleaner.
5.PLC integrated control system:Electric current induction type full automatic grinding section
6.Online Alarm:If serious quality problems occur and the flap wheel runs out in the production process, it will automatically alarm or even stop, which can control the quality of the pipe and reduce production costs.
7.Double Motors: Operation is even more stability
8.Metal Saw Cutter: Less burr in the end of the pipe
Based on Intelligent Pipe Making Machine design, one engineer can operate 5 sets machines at same time.
stainless,steel,pipe,making,machine,pipe,production,machine,tube,mill