Brief Introduction: Stainless steel coil slitting line
---
Brief Introduction: Stainless steel coil slitting line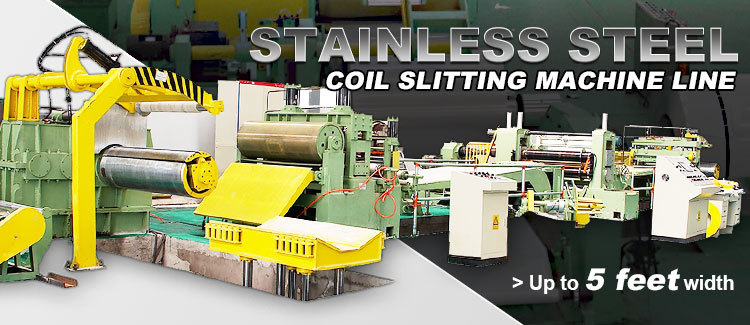 Let's learn about the stainless steel coil slitting line from three parts:
Part 1:Mechanical Composition:
1.coil car 2.2 set of auxiliary support 3.Pinch roller 4.Leveler Shearer 5.Decoiler 6.Slitter 7.Edge coil rewinder 8.Loop pit
9.Tension station 10.Recoiler 11.Coil car 12.Hydraulic system
13.Electric system
Part 2:Characteristics:
1. Automatic procedure which is very easy to operate
2. High speed can make the high output amount to maximize the slitting machine's function and value.
3. Stable with the DC motors to make the whole line speed stable.
Our steel coil slitting line is used for slitting the steel coil to small strips with automatic control . The features we have is fast speed, high precise, stable performance and easy to operate.
It is featured with simple and convenient operation, reliable operation, high efficiency and energy conservation.
Part 3: Application

Our products are supplied to cold rolling and pipe welding factories and our machine can be also applied to other industril field which connect to the metal material.
Slitting line can be categorized into thin strip slitting line and thick strip slitting line for the thickness of the strip or copper strip slitting line, silicon steel, stainless steel, aluminum, carbon steel strip slitting line, etc for the material processed.
coil slitting machine supplier used for slitting coil to multi-baby coils then winding together, it is widely used in pipe, punching, auto parts, coil processing, fittings, etc industries. it contains the mechnical parts, hydraulic part, electric part, pneumatic part and lubraicate part
coil,slitting,machine,slitting,machine,slitting,machine,supplier,coil,slitting,line